We may earn money from the companies mentioned in this post. We do not receive free merchandise
Sheer thong panties – Daringly sheer. You may want a very pretty short dress to wear with these fashionably sheer panties. Browse our display of pretty dresses.
Sheer Thong Panties
These panties are perfect for wearing under your short dress when you go clubbing. They are tiny and light weight. You will feel like you are not wearing anything but they are made in such a way as to prevent showing too much.

Castalia's new take on classic black lingerie brings hints of lustrous gold and pine green to lift its intricate floral design. This thong is crafted from a luxurious botanical lace with a subtly metallic finish. It features fine gold-toned hoops at the apexes, which join slender black satin elastics sweeping around the hips, which sit in a tiered effect, creating a sexy cutaway effect at the rear. The straps are layered with a panel of golden lace with a scalloped edge and eyelash border. It's finished with a delicate picot trim at the elastics, and a center front satin bow.
.
These panties are ultra thin and ultra small. They are light weight and very comfortable. Wear for special occasions. Nothing much is hidden. This thong is so light that you will think that they are not really there.
.
.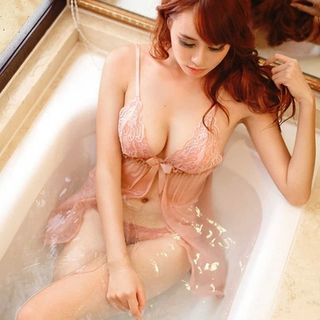 Set: Lace Panel Sheer Nightdress + Thong
Sweet and romantic, this sheer nightdress is adorned with a ribbon bow on the lace cups, followed by a slit-front design for the skirt. Color: As Figure, Materials: Lace, Size: One Size: Bust: 81cm-91cm, Waist: 56cm-77cm, Care: N/A
.
.